The original Jenn-Air Products Company was founded by Louis J. Jenn in Indianapolis, Indiana in 1947, later becoming simply Jenn-Air. In the early years, the company was focused on manufacturing and marketing of industrial fans for use in a variety of commercial and industrial applications. In 1961, Jenn-Air's integration of one of these fans to a cook-top range lead to the invention of the first self-ventilated downdraft range. The company expanded its product line to include many other kitchen appliances including microwave ovens, refrigerators, dishwashers, and small appliances such as mixers and blenders.
Wikipedia profile of Jenn-Air shares a large amount of information about the company. You can visit http://en.wikipedia.org/wiki/Jenn-Air to learn more about the products and services available with Jenn-Air.
Jenn-Air makes luxury kitchen appliances known for their sophisticated design, innovative technology and exceptional performance. Jenn-Air first became known for creating the legendary downdraft cooktop in 1961, as well as for bringing convection cooking into the home. They now make appliances for the entire kitchen, from powerful professional-style ranges to stylish built-in refrigerators.
Jenn-Air appliances offer unprecedented performance as you cook and entertain. The wall ovens are among the best performing on the market. The gas downdraft cooktops offer the most powerful ventilation system you can buy and the built-in refrigerators have been ranked #1 for four consecutive years. In addition, when it comes to cleaning, no other line of dishwashers are more quiet.
Your visit to the official company website please visit www.jennair.com/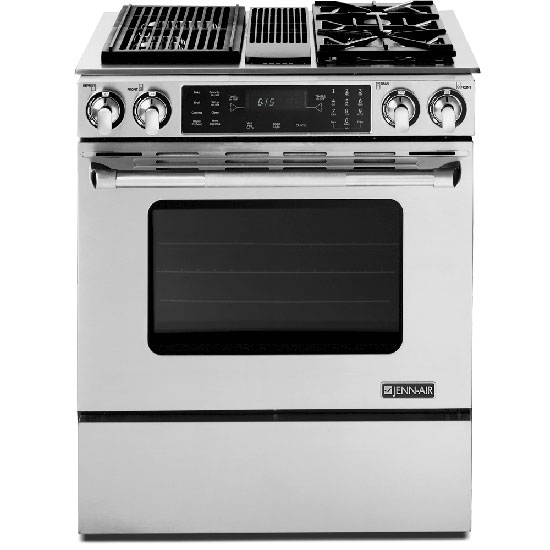 Jenn-Air is a versatile manufacturer of kitchen appliances.
The key features of these include:
Ultra-modern looks and finish
Superb performance
Low maintenance
Cost effective Energy Efficiency
Low or no noise for totally sound-pollution free atmosphere
Electric and Gas models available
full collection of boldly styled, powerfully beautiful Pro-Style® Stainless Series appliances